Zion Ponderosa Ranch Dining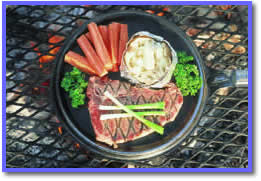 Our hearty meals are served daily in a Western Style Kitchen. Entering our dining area you will be greeted with the wonderful smell of the day's Entree.
Breakfast
Each morning your group will awake to a full selection breakfast bar. Hot and cold items are available including, eggs, bacon, sausage, pancakes, rolls, bagels, cereals, juices and more. You are welcome to return to the breakfast bar as often as you would like.
Lunch
We offer a wide variety of options including: Ranch style hamburgers, sandwiches made to order, soups, fries, and an assortment of cookies.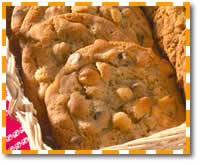 Hot Cookies
Every afternoon at 3 p.m. our kitchen staff prepares delicious hot cookies. You will find your favorite whether it's chocolate chip, white chocolate with macadamia nuts or oatmeal, they are oven fresh every day.
Dinner
Guests love our nightly Ponderosa Feast. Our kitchen staff prepares tantalizing meals including: one-pound T-Bone Steaks, Sliced Roasts, Rocky Mountain Trout, Barbeque Chicken, Alaskan Salmon, and more. Savory side dishes will compliment your entree to the likes of Idaho baked or mashed potatoes, corn on the cob, assorted greens, pastas, and don't forget our fresh Salad Bar to balance out your meal. With all of this to eat be sure to save room for dessert. Our varied dessert options are sure to bring a smile to your sweet tooth.